Protecting yourself from Unintentional Copyright Infringement
Do you remember the images you used to build your company's website?
Have you confirmed that each image used on your site is free of any copyright protections?
As a website owner, you should be aware of unintentional copyright infringement online.
In today's digital landscape, websites can be targeted for the accidental use of copyrighted images.
Often, law firms represent copyright trolls looking to score quick settlements with the threats of Federal Copyright Lawsuits.
If you are unsure whether the images used on your website are free of copyright protections. Or, if your business has recently received a demand letter for image copyright, then this post is for you.
One thing we have learned from working with a variety of different businesses is to ensure that you're not at risk of unintentional copyright infringement online.
It will save you from a world of headaches as a result of your small business's unintentional use of copyrighted images online.
I took all the photos used on my website…I'm fine, right?
If you're a photographer, and you've used all your own content on your company website, then you have nothing to fear with respect to copyright.
The images you take and use for your projects is entirely your own.
The implied copyright protection on those images was yours from the moment they were captured on your iPhone or digital camera.
If this is how you developed, or plan to develop a website, then you should be in the clear.
Congrats! You can move on to more important aspects of running your business.
I used all stock images, am I safe?
Stock images have been the go-to resource for high quality creative content since the earliest days of the internet.
With stock images, businesses get cost-effective, top of the line graphics that would cost many hundreds of dollars to create & use on company websites.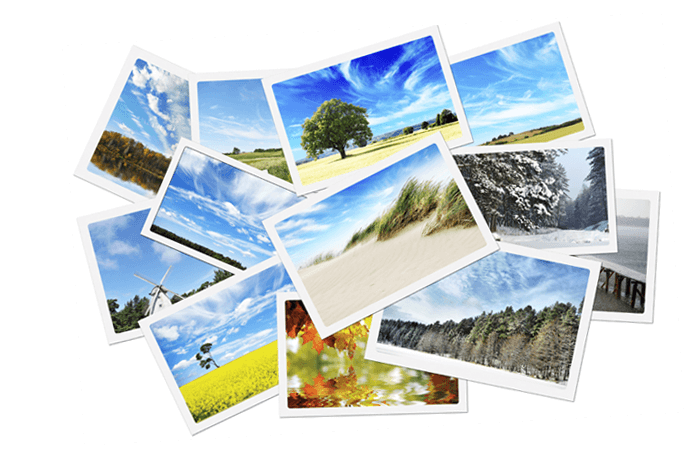 If you created your website with all stock photo content then you are in a good position with respect to usage and unintentional copyright infringement.
Yet, there are a few things to consider when looking at the stock photos used on your website:
Did you buy the images or did a third party provide them?
If you bought all content on your website from a known stock photo resource, there is little to worry about.
But, if a third party provided the stock images, have you confirmed that they purchased them with clear rights for your usage?
Always double-check that the images that you are using to sell your services are in-fact yours to use.
Did you select the correct usage license?
In most cases, the default license for images on stock photo resources is setup for use on company websites.
However, not all licenses are created equal.
Stock photos come in a variety of shapes, sizes and licensing terms.
What you buy for use on a company website may not have the same flexible terms to use on a t-shirt or coffee cup.
Confirm that the license you have selected for any image in question gives you the proper clearance for use on your company's website.
It's no fun choosing a stock photo only to learn that you picked the incorrect license for your project.
Does the Stock Image Resource you chose allow for lifetime usage?
Have you looked at the terms of use for the stock image resource you are purchasing images from?
Confirm that the images you buy are good to use for the lifetime of your project.
In some cases, a photo will have a specified period of time or other usage constraints stipulated.
Most reputable stock photo companies honor lifetime usage rights in their licenses.
But, specific stock providers could have different language hidden in their terms.
So where can I find good stock images?
This is a question that many small business owners ask on a regular basis.
The answer is that quality stock images have been getting more and more expensive in recent years.
Many resources now require monthly memberships to capture the best deals on stock content.
With the increase in this trend, the cost of single images has been on the rise.
Choosing the best photo resource often starts with budgetary constraints on any project.
Some of the stock photo resources we have used in the past include:
The best advice is to search for images that appeal to you and your business.
Don't sacrifice the quality of your project because you didn't spend an extra few $$ for the right photo!
I got this image on social media, it's good to use right?
The growth of social media sites in recent years has lead to large numbers of images shared online.
Sometimes, the images used in social media postings come from content originators.
These originators own, or have the permissions, to use the content they share in social posts.
But, more often, social images are shared without any consideration for prospective copyright protections.
When this is the case, images attached to social posts are violating copyright protections.
Additionally, many content originators allow more flexible terms for the social use of images.
One example of this is the use of an image prohibited for use on commercial websites but approved in a social capacity.
Taking images from social media posts and using them on your website is a risky proposition.
This is true because much of the content shared on social networks is far removed from the content owner.
In other words, the person using the image on a social site has no idea who the content's owner might be.
If you take an image off of a social media site & use it on your website, there is a good chance you are violating copyright.
Even if the image is not attributed to anyone in particular, you could be risking infringement of copyright.
Be safe and look to a stock photo resource or content you create to be sure that you are protected from any potential liability.
I got my images on Google Image Search, which has to be free to use!
The simple answer is that images selected from Google (or any search engine's results) is the riskiest way to get images for your website.
If you go to image results, save images and place them on your company website, you are likely violating the copyright of the content's creator.
The only way to think about using search engines as a resource for photos for your website is to use "Advanced" image searches.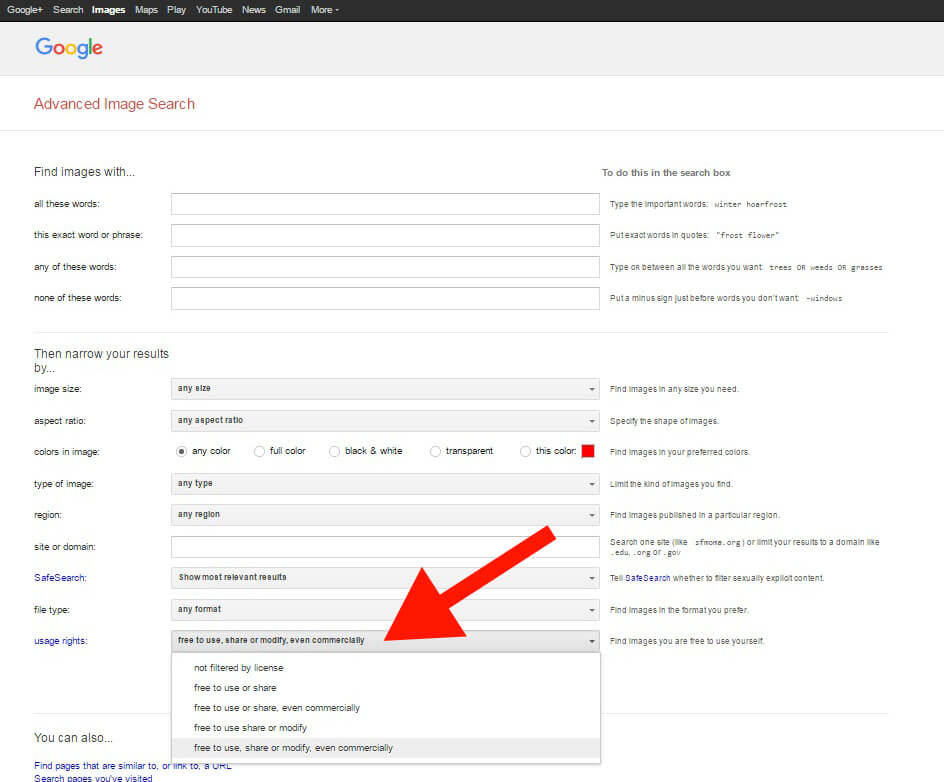 With advanced image searches on Google, it is possible to specify images that are free to use, share or change, even for commercial use.
These filtered results can be useful, but it is still important to check where the image came from for any specific terms and conditions on individual images.
Using images direct from search results is risky with respect to copyright infringement and not at all recommended.
Someone else built my website, how do I know where my images came from?
This can be one of the trickiest parts of the copyright equation for small business owners.
If you hired a developer to provide you with content for your website then you are trusting that developer to confirm that images provided are done so in good faith of clean copyright.
The first thing to consider is to ask your developer for the receipts for the stock images purchased.

The next step would be to ask for a list of where each image came from for the project in question.
If you can't contact a previous developer, you could try to find the images used on your site at known stock photo resources.
Once you find the images in question, you can always re-purchase them in an account you manage to ensure that you have the proper credentials.
Replacing images that are questionable…
Have no idea where specific images came from on your website?
Don't risk a copyright violation. Replace them with stock content or content that you have created and own.
If you aren't sure about your content, do yourself a favor and replace the images in question before a copyright violation.
If you know how to edit your own website, grabbing a few stock photo replacements and installing them on your site is smart.
It is also the safe way to know that all the images on your website are free and clear to use.
If you don't know how to edit your site, hire a content development consultant or local web designer.
Let them assist you with the replacement of images that are questionable.
The couple hundred dollars it will cost your business is far less headache than having to hire legal representation over a copyright dispute.
I was contacted by a law firm for copyright infringement, now what?
The first question is what did you receive?
If you received a DMCA take-down notice, or a Cease & Desist letter, promptly comply with the demands to take down the images.
Next, notify them that the accidental use of the copyrighted image was fixed immediately.
If, unfortunately, you received a demand letter that threatens a Federal Lawsuit with Statutory Damages for the use of copyrighted images, the best advice we can provide is to speak to qualified legal counsel.
If a copyright owner has taken the time to get a law firm involved, it is likely that it will require legal assistance to fully resolve the situation at hand.
The first step is to request proof of ownership of the copyrighted material.
You want to make sure that the images in question are actually owned by the people that are threatening legal action against your business.
There are a number of resources online that can help you walk through the process of infringement demands, especially with respect to known copyright trolls.
Some of these include:
There are thousands more….just use Google!
Conclusion
An unintentional infringement of image copyrights is not an issue that you can ignore.
Best case, resolving legitimate copyright disputes can cost your company hundreds of dollars in settlements.
Worst case, legitimate copyright claims can suck you into the void of a Federal Copyright Lawsuit requiring professional legal representation. And that isn't cheap!
The easiest way to protect yourself is to ensure that all the images used on your company website are free and clear of any copyright protections.
The best time to do that is long before an issue arises.
As the owner of a website, it is your responsibility to make sure that the content that you use to market your business is used in accordance with copyright protections. Ignorance is not a valid defense against copyright claims!
Take the time to confirm the usage rights of the content you use on your website.
Save yourself the hassle of getting involved in the world of copyright infringement and sleep soundly knowing your content is yours!
Have you ever dealt with a copyright dispute related to your website content? Tell us about your experiences in the comments below.