7 Reasons it's time for a Website Revamp
In the 21st Century, your business website is the cornerstone of any comprehensive marketing plan.
However, many business owners largely ignore their web presence, rarely updating content or technology to keep up with a changing digital landscape.
For good reasons, most business owners are hesitant to take on a comprehensive website revamp. It can be hard to understand why giving up that design that you paid so much for in 2005 could possibly be prudent in 2016.
In this post, we're going to take a look at some of the benefits that small business owners can expect from a comprehensive website revamp, and why it's time for your business to bite the bullet and commit to a better presence on the web.
By taking advantage of modern technologies, your business could be managing your online presence in a whole new, more efficient way.
Let's see why it's time to redesign!
1. It's too late to ignore the importance of a Mobile-Friendly Website
Has it been a while since your website was redeveloped?
Are you still keeping a site alive from the last decade? Last Century perhaps?
One of the biggest changes in digital marketing trends in the past 10 years has been a significant shift towards the targeting of mobile web users.
With the growth in popularity of mobile devices, more and more businesses receive web traffic that arrives via mobile web platforms.
As of 2015, more than 30% of web pages were served to mobile devices.
For a business, that means that roughly a third of visitors could be experiencing a sub-optimal web experience (and consequently leaving your website) if your website is not mobile-friendly.
With a website revamp to a responsive platform, a business can expect the following advantages:
A Consistent Brand Theme Across Multiple Platforms
Using responsive web design ensures that your valuable web visitors all encounter a similar brand message from your website.
This consistency builds your overall brand awareness while providing your users with an effective platform to efficiently view your website on any mobile device.
Better user engagement on mobile devices/tablets
With a responsive website platform, users on any platform will be served the best version of your company website instantly to accommodate each visitor's unique device demands.
By serving the most effective version of your website to visitors on a session-by-session basis, your visitors will be more likely to interact with your calls to action, ultimately leading to better engagement from your visitors to your site.
Better Organic Search Placement in major search engines
As of 2015, Google made responsive website technology a necessity by giving mobile responsive websites priority in organic search results.
This monumental change to search engine algorithms has prioritized mobile technology for any business serious about competing for the top organic placements for any key word set.
Want Proof?
Simply search for anything on Google on your mobile device and look for Google's designation of Mobile-friendly sites in light grey writing at the beginning of the description tag.
2. A Fresh Look – Putting Updated Design to Work for your Business
What kind of first impression does your website make about your business?
Are you showing local customers why they should choose you over other competent local businesses?
Your website says a lot about your company's vision.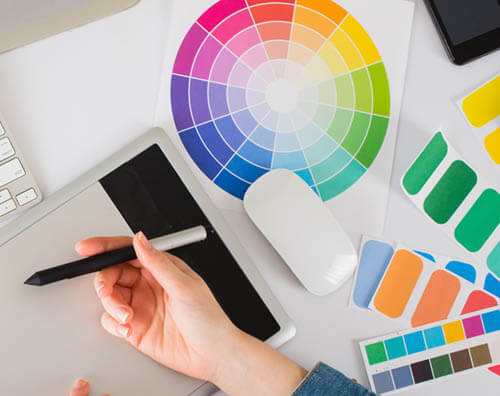 With most visitors gathering first impressions of a business in the initial visit to a company website, it is critical that a company web presence makes a good impression.
Undertaking a website redesign is your chance to give your business a facelift that will help you market in a better, more beautiful way.
A fresh web design is especially important when taking into consideration upgrades to responsive, mobile-friendly websites. If your visitors can barely see your website on mobile phone without significant zooming and manipulation, you could be losing business.
Best of all, a modern website revamp allows you to take advantage of current technology to make your new design as robust as possible. From advanced slideshow capabilities with animation to stylish video integration, your website and content offerings will look better than ever before.
Some of the advantages that businesses can expect from an updated look via a website revamp include:
Modern Styling with clear contact and call to action options
Is it hard for your visitors to find how to contact you?
Is your phone number hidden a few pages deep where no one sees it?
By upgrading your website, it gives you a chance to address issues related to call to actions, contacts and other critical company information that your old site may have forgotten to make clear to your visitors.
Stylish and functional design features
Is your company website still using a Flash animation to welcome your visitors?
For many of your leads that old Flash animation might display incorrectly or not at all!
With an updated web presence, business owners take advantage of modern design features that include things like responsive slideshows, video integration, social feeds, newsletter sign-up features and much more.
This updated technology provides more chances for your users to effectively engage with your business, while helping to provide you with a better look and feel for your business online.
Competitive design standards for increased efficiency

How old is the technology that your current site is built on?
Websites, and Content Management Systems like WordPress, have come a long way in the past ten years.
Undertaking a modern web revamp brings your website up to current standards for increased performance.
Current technology can help with things like site load speed and efficiency, as well as bringing your site up to modern coding standards like CSS3 and HTML5 for increased performance and compliance.
3. Take advantage of Powerful New Website Technology
How easy is it for your staff to make changes to your company's web presence?
Can new content, news and information be added in an efficient, user-friendly manner?
By utilizing a website software framework like WordPress, businesses can take advantage of Content Management Systems (CMS) that provide powerful results for enterprise level businesses.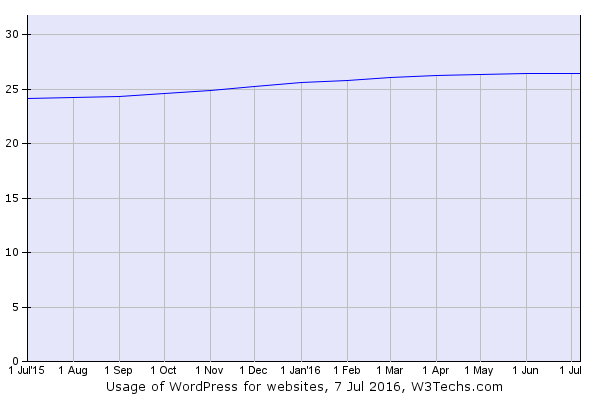 With over 26% of all websites using WordPress as of 2015 (2), this powerful CMS solution makes it easier than ever for an internal marketing team to successfully manage all aspects of a company's web presence than ever before.
Explore some of the powerful advantages of modern CMS technology:
Multi-level access for different team member responsibilities
Want to delegate different web and marketing tasks to your employees with varying degrees of access? With powerful CMS technology you can choose to provide access for multiple managers, editors, or admins with ease.
The ability to apply varying responsibility levels among staff allows business owners to rest easy knowing that only verified members of your team have the capability to access the sensitive content on your site.
Simple WYSIWYG plain text editor for easy content edits
One of the best parts of modern CMS systems is the ease with which business owners can easily update their content in simple text editors as opposed to through web code like many older sites demand.
If you're working with WordPress, you even have the option to use robust content editors like Visual Composer to make the creation of both static and interactive content simpler than ever before.
With complex CMS programs powering your content editing, producing high quality, original content is closer to your grasp than ever before.
Stable framework for high volume content producers
Expanding your business and need a stable platform?
With the powerful website technology that is currently available, small business owners can choose a platform that is more stable and secure than ever before.
CMS platforms have come a long way in the past 10 years, providing better performance and stability for businesses of all shapes and sizes.
As these powerful CMS tools mature, small business owners reap the rewards of easier management, robust SEO & Marketing tool integration and the stability necessary for any popular website.
4. Gain an advantage on your local Competition
Have your competitors moved up to more complex websites while your business stuck with an old framework?
Are they using current technology to entice and attract local leads while your site stays in the dark ages?
If you are serious about attracting local leads with your business website, having the best possible version of your company online is critical.
If your competitors all use modern websites with responsive technology, it puts any business at a significant disadvantage to not take advantage of similar technologies to market to local clientele.
With an updated website revamp, businesses are able to take advantage of powerful modern features to help portray the business in the best possible light.
Some of the ways that a modern web revamp can help you gain an edge on local competition include:
Impressive Design Features and Clear Call to Actions
When talking about local competition among websites, the first factor that potential customers notice is the overall look and feel of a company web design.
If your competitors are using the latest technology to appeal to the design sense of your target audience and your business is using old technology that doesn't represent the quality of your business, who do you think will capture the lead?
With an updated website, you put the best version of your business online for your visitors to see for a first impression, while capitalizing on powerful call-to-actions and lead generation tools for maximum user interaction.
Powerful Lead Generation and Sign-up Tools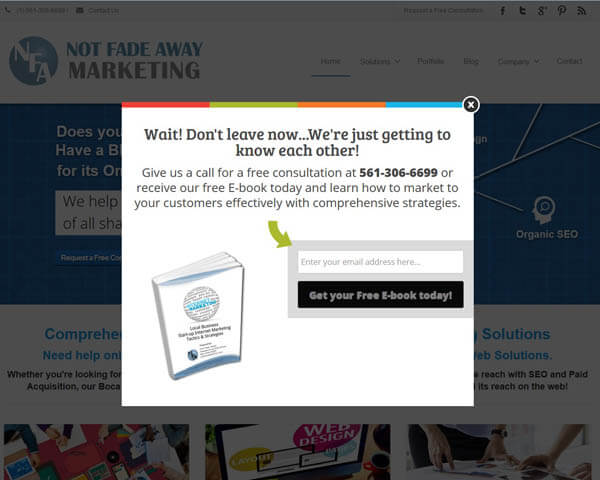 Are your competitors encouraging potential leads to sign-up for newsletters and social feeds while engaging them to be more "hands-on" with their business?
When your visitors are on your site, are you taking advantage of the same powerful technology?
With nearly 55% of web visitors leaving websites after 15 seconds (3), it is critical for any business to use technology aimed at reducing visitor drop-offs.
By committing to a web revamp, business owners can plan to take advantage of the myriad of tools now available to webmasters that encourage visitor engagement on a more personal level.
With CMS builders like WordPress, it is now easier than ever to solicit for sign-ups, conduct free giveaways and actively promote your social networks through your company website.
5. Need something Built to Last? Take advantage of improved Website scalability
Looking for a platform that can grow with your business into the future?
Need special add-on functionality to assist with SEO, Marketing, and the management of your business website?
With a modern web revamp on a powerful CMS solution like WordPress, a business starts with a platform that is absolutely unlimited in terms of scalability.
Scalability, or more specifically, the ability to grow to meet the ever-changing demands of a company's digital marketing plans under an increased workload, is a critical component of any online web presence.
Scalability ensures that the website that your revamp today is built to last with the current technological standards of design and code, giving your business a stable platform to grow your presence into the future.
Some of the benefits that companies can expect from the improved scalability of powerful CMS platforms include:
Stable Framework for future growth
How does your current website accommodate your online growth? Are you able to deal with changes and additions to your site with ease?
With a modern web revamp, your company's web presence is built on a completely stable platform to ensure that as you grow your content your visitors will be able to efficiently find and view any part of your website consistently.
Ensuring that your company web presence has a stable platform to grow with over time allows you to rest easy knowing that your site will be accessible at all hours of the day no matter how intense your content marketing strategy may be.
With a stable CMS platform like WordPress powering your company web presence, running and expanding your business over time is easier than ever before.
Ability to add unlimited new content including pages, blog posts, etc.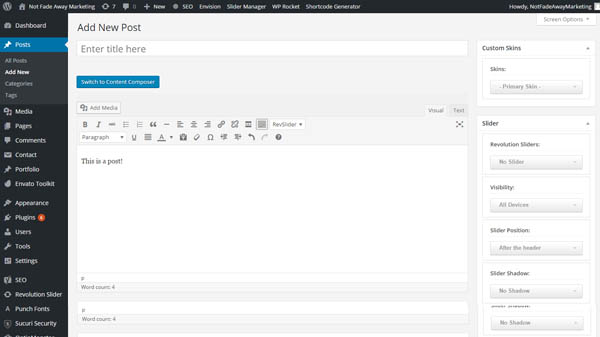 Focused on content marketing? Do you have a plan to publish original, unique content for your company's web presence?
With modern CMS technology as the framework for your company's web presence, adding new content is a breeze.
From new pages and blog posts to interactive content like video, charts and social tools, a modern web revamp puts the power in your hands.
Best of all, the content that can be added is completely unlimited, with no cap to the amount of original content that your business can publish under its own brand.
This feature makes it easier to expand your business over time. Knowing that your web platform can efficiently handle the addition of an unlimited amount of content can help your business with new content marketing, the addition of thousands of products and much more.
Multi-site Technology
Need technology to run a network of similar sites without having to setup multiple stand-alone sites?
With powerful multisite technology from WordPress, managing a complex network of unique web presences is more efficient than ever before.
As defined by WordPress, multisite technology allows users to manage multiple virtual sites from a single WordPress installation.
This robust technology helps business owners with complex blog networks more effectively manage all of their multiple business sites from one central backend without the need for multiple separate installations or hosting servers.
For the average business owner, this technology is not something that will normally be used.
However, for some unique projects the multi-site technology is the perfect combination of scalability and powerful technology necessary to drive the most complex website requirements.
6. Plugins for Added Functionality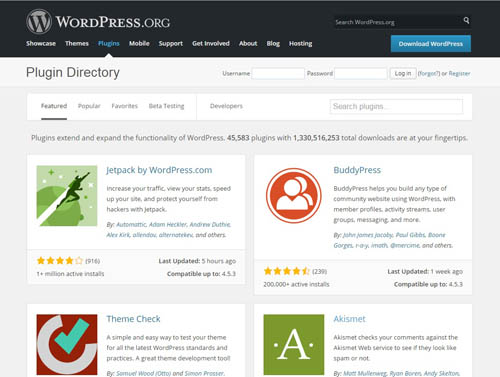 Looking for do-it-yourself tools to help with SEO, security and other online goals?
By utilizing a complex CMS like WordPress, companies can take advantage of unique "plug-ins" to assist with everything from on-page SEO to fully customized job listings.
Plugins allow businesses to utilize the power of open source solutions to a myriad of different technical demands that an online business faces in the effort to remain on the cutting edge of web technology.
With over 45,000 unique plugins currently available (4) to expand the use of your WordPress installation, small business owners have the ability to take advantage of a wide variety of powerful tools.
A small sample of some popular WordPress plugins that can help any business owner manage a company website include:
Akismet – Scans your blog commentary to look for spam messages.
Contact Form 7 – Easily create contact email forms for use around your company website.
Yoast SEO – Effectively manage components of your on-page SEO with this popular SEO plugin.
Google Analytics – Add Google Analytics tracking to your company web presence.
MailChimp for WP – Integrate your MailChimp tools with your company website for your email marketing efforts.
7. SEO
Over the course of the last few years SEO has changed drastically.
With the advent of the Penguin, Panda and Hummingbird updates from Google, SEO has become more and more focused on quality and less on gimmicks and tricks.
As the call to quality, white-hat SEO has evolved, a commitment to carefully-planned, comprehensive SEO campaigns has become a requirement for any business looking to generate organic search leads.
Undertaking a modern website revamp is the cornerstone of the development of an effective SEO strategy in today's online world.
With current website technology, business owners can benefit from a variety of SEO advantages that include:
Combating Mobileggedon with Mobile Friendliness
As of April 2015, Google gives priority in organic search rankings to sites that are compliant with mobile friendly standards.
With a website revamp, your business can deploy a responsive web framework that not only complies with the mobile-friendly guidelines of major search engines, but that also provides a better user experience for your visitors.
Having a site that is mobile-friendly gives your website an initial boost in organic SEO that you wouldn't otherwise have by staying on an older website platform.
Utilize Powerful SEO Tools
Want to manage your own SEO campaigns?
With an updated website you can easily take advantage of some of the powerful tools now available to website owners to help self-manage all aspects of your site's optimization.
Using tools like the Yoast SEO plugin on a WordPress framework gives you the power to manage detailed aspects of everything from on-page content optimization variables to the management of your website sitemaps and social profiles.
Conclusion
Undertaking a website revamp can be a time-consuming endeavor, but the benefits of today's modern website technology far outweigh the long-term risks.
This is especially true for small business owners who haven't had the ability to self-manage a company's web presence because of the limitations of older websites.
With a modern website revamp, you have the ability to take control of the management of your online web presence.
With the powerful tools now available to website owners, there has never been a better time to redefine how your business is seen on the web.
Thinking about taking on your own website revamp? What are the major challenges that you've encountered?