Charter Fishing Web Design
Effective Websites for Charter Fishing Services
Charter Fishing Website Design created to highlight your unique adventures
Ready to make an impression on the internet that matches the high-quality charter fishing service that you provide for your anglers? 
Getting frustrated with DIY web builders and an unprofessional or dated look for the face of your charter fishing business online?
At Not Fade Away, our experience building charter fishing and fishing industry websites helps Captains maximize their strengths to cultivate greater engagement and interactivity for your potential fishing guests. 
Our team assists Captains with a full-service perspective on branding, web design and digital marketing by simplifying the approach to the web design process.
When starting a new charter fishing web design project, we develop sites that provide full owner management for edits and changes to the front-end of the website on one of a number of popular content management system software. 
Additionally, now that most of the traffic online comes from mobile sources, all of our fishing websites are built with completely responsive website technology that allows visitors to have a positive user experience no matter what format the site is accessed on.
Using our over 25 years on boats ourselves, our team also helps Captains with quality SEO rich content creation to help better tell the unique story of your business online. 
If you're in the market for a website for your Charter Fishing or fishing business, explore the information on this page for a better understanding of some of our most popular fishing web design solutions, frequently asked questions and more!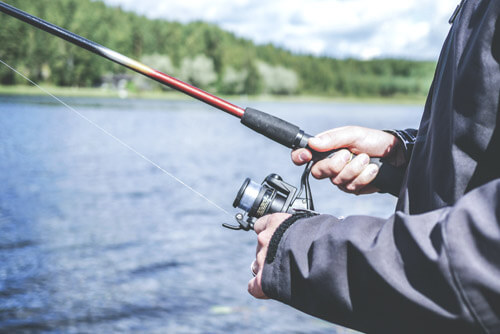 Want to know how we can help your team with Charter Fishing Web Design?
Charter Fishing Web Design Services
Domain & Hosting Consulting
Need help understanding the options available for the web hosting and domain name of your new online venture? Work with us to optimize your domain keyword strategy, or let us customize a hosting option that fits the unique objectives of your new project.  
Logo & Brand Identity Strategy
Don't know where to start with respect to your charter fishing business' identity, logos, and branding? What does your logo say about what you do on your fishing adventures? Let our team help you pinpoint your brand identity with a comprehensive graphic design strategy.
Fishing Web Design
Tired of straight out-of-the-box solutions for your charter fishing website? Need something a bit more unique for your fishing service's online home? Our creative internet professionals listen to your internet design preferences during our strategy calls and then create three design concepts that are designed to illustrate your fishing adventure's style and culture.
Responsive Fishing Web Development
Is your current website hard to navigate and browse on modern smart devices? In today's online world, mobile-friendliness is imperative for any business looking to compete online. Our web development process helps fishing businesses with effective responsive web technology that provides an efficient framework for your content no matter how your visitors are browsing your site.
Charter Fishing SEO
Looking to grow your reach and exposure online through organic SEO? Our team helps Charter Fishing & Fishing businesses with comprehensive Search Engine Optimization campaigns that address issues related to on-page optimization, technical optimization, fresh content and backlink management.
Bookings & Payment Strategy
Need a solution for your fishing charter online bookings? Let our team help you integrate an effective solution to help you manage bookings with ease online. From basic payment options to advanced multi-day booking solutions, our team can help your visitors select their next adventure simply and easily. 
Social Networking Strategy
Don't know which social channels your firm should be using to professionally connect with your audience online? Need help with the consistent branding of each of your channels? In today's online world your social strategy is critical to the overall success or failure of your firm. 
Looking for a New Home
for your Fishing Charters Online?
Components of Effective
Charter Fishing Web Design
Creating an effective website for your Charter Fishing Web Design project can be daunting, especially as a small fishing team or owner-operated business.
There are a number of components that need to be considered in order to create the best representation of your business online. Some of these include:
Clearly Promote your Brand or Logo
Use a consistently branded color scheme throughout the site
Develop clear Calls-to-Action for easy user experience
Highlight your Targeted Fish Species
Provide easy to navigate Fishing Captain Profiles & fishing Experience
Utilize Responsive Technology for a good mobile and tablet-based experience on your charter fishing website
Make navigation clear and easy to use
Develop resources sections for articles and other fresh content updates including fishing reports, best times of year to fish in your areas and more
Integrate Booking solutions into your website for easier lead management
Provide social proof through the use of testimonials 
Show off your affiliations and sponsor of your fishing team
Keep critical information "above the fold"
Integrate social feeds and profiles like TripAdvisor to give your anglers easy options for reviews
Frequently Asked Questions
for Fishing & Charter Fishing Websites
Why does my fishing business need a website?
Plain and simply put, the internet is the strongest and most efficient medium currently available for a small business, organization, cause, or other entity to reach direct customers, supporters, and fans of your idea, product or service.
The internet allows you as a business to grow from the ground up, from the cultivation of local support to the ability to reach customers across the globe with an accurate depiction of why they should use your business to fulfill their needs.
In the past fisherman used the Yellow Pages and partnerships to grow a fishing business. In today's world, a website is a must for any Captain to connect to potential, existing and current anglers.
How long does it take to design a fishing charter website?
The time that it takes to build a custom web presence for your business is dependent on the scale and scope of your online goals and objectives.
The average time for the development of a 5-10 page web presence ranges from 6-8 weeks from project initiation.
If a project features a basic design, modest features and little to no SEO or Online Marketing, it will take considerably less time to develop than a project with 50 pages, custom e-commerce functionality and advanced SEO & Marketing campaigns.
All of our fishing charter web design projects are developed under completely custom design proposals. Let us customize an online plan to exceed your online expectations today.
What's a domain name? Why do I need one?
A website's domain name is its unique web location. Sort of like your website's address.
The domain is usually "yourbusiness.com" but could be anything imaginable that is not already owned by another user on the net.
In order to have your website code active online so you can have visitors to your website, you must purchase a domain address.
The domain gives you access to place your information at the specified address so that internet users can view your web presence.
Domain names are fairly cheap but must be renewed annually to keep your site live at its specific address.
What about hosting? Is it necessary for me to have?
Yes, hosting is imperative for any website.
Hosting stores your website information on a server that is set up to transmit and hold information for web pages on the internet.
In very simple terms it is the rent that you as a website must pay the internet for the space that your site holds.
Without hosting, your website would be a collection of source code without anything to connect to.
At Not Fade Away, we provide Hosting Services for our clients or are happy to help our clients work with a number of hosting partners.
Not Fade Away can help with your hosting or we will happily give you the code for your website that you can use elsewhere.
What's so special about Social Networking?
In recent years social networking (sites like Facebook, Instagram, and Twitter) have sparked a social revolution of inter-connectedness.
For small businesses, these sites provide a unique opportunity to reach a broad segment of your possible customers.
The other great feature of social networking is that in today's day and age interconnecting different social networking accounts can help you efficiently take advantage of a wide variety of small business expansion options.
Social Networking also works great with a Blog to bolster and distribute your content to your fans, friends and followers.
Hooking into social networking with your small business website is easy, just contact Not Fade Away Marketing today!
Who creates the content for a fishing website project?
Our website projects assume that the owner of the business will provide the content necessary to meet the objectives of the build.
Content includes things like written text, images, videos and more that tell the story of your business.
However, here at Not Fade Away, our team is always happy to help with content creation, image cultivation and graphic design to any extent necessary to meet the objectives of the project as an additional service during the project development.
How much does a charter fishing website cost?
In simple terms, the cost of a website development project is dependent on four main factors:
Level of design – Custom vs. Templated
Scope of the project – How many pages?
Content – Provided by the firm or created for you?
Additional integrations and features – SEO campaigns, ADA Compliance, Scheduling, Payment Integrations, etc.
At Not Fade Away our average "Business-Card Style" fishing charter websites start at around $2,500-3,000.00 and increase in price with additional features and functionality.
Why trust Not Fade Away for your Fishing Website Design Project?
At Not Fade Away, our passionate online advisors put years of experience to work to help tell the story of your unique charter fishing business. While working with you to maximize your online objectives, our team creates an experience for your firm that goes far beyond the normal agency-client relationship. 
More than 15 years of experience online
Creative Digital Solutions
Personalized care from an individual consultant
Strategy & Service from Concept to Completion
Open & Clear Communication
Complimentary 15 minute No-risk Discovery Call
Explore some of our
Charter Fishing Website Design Projects
What people are saying
about Not Fade Away
Captain Justin Bachert
Hot Water Fishing
"Keith and his team provided my business a unique and individualized website. I've known Keith for a long time and his diligent and patient personality is second to none. I have—and will continue—to recommend Not Fade Away marketing for internet marketing at every chance possible!"

Anila S. Rasul
ASR Law Firm
"Our experience with Not Fade Away was nothing short of exceptional. Keith and his team took care to help us create a stunning representation of our law firm online. Their creativity and professionalism is something that is lost in the hustle of everyday business. We highly recommend giving Not Fade Away a call to discuss your potential projects. Their experience and unique perspective of websites and internet marketing is sure to be an asset to your online business.!"

"Not Fade Away Marketing" was amazing, from our initial consultation throughout the whole process. They patiently and skillfully took the time understand my needs and educate my choices in developing the marketing and web site strategy. Their depth of knowledge and creativity is endless. I am extremely grateful for all they contributed and would highly recommend their services to anyone in need."